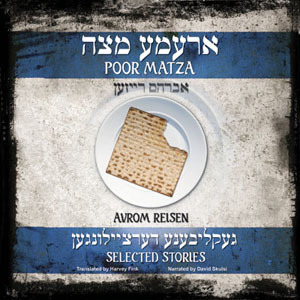 Pricing
Audio CD - $40.00
MP3 CD - $20.80
Download - $16.00

Buy this book on CD
Buy this book as Download
Sub Title: Selected stories of Avrom Reisen translated from the Yiddish by Harvey Fink
Author: Avrom Reisen
Narrator: David Skulski
Audio Book Length: 5 Hrs 51 Min
# of Audio CD's: 5
# of MP3 CD's: 1
Audio CD ISBN: 978-1-927401-55-2
MP3 CD ISBN: 978-1-927401-56-9
Download ISBN: 978-1-927401-57-6

Poor Matza
"David Skulski narrates the introductory biographical sketch and the 38 stories in a gravelly voice that draws listeners in"
"AudioFile Magazine Full Review"
Avrom Reisen (1876-1953) was an acclaimed and prolific Yiddish poet and short story writer for the American Yiddish dailies.This is a superb translation by Harvey Fink of some of Reisen's best short stories. At the time of Reisen's death, the Jewish Spectator wrote: "There are many Yiddish writers who owe their success to Reisen's encouragement. For years he published and edited, under great sacrifices, Yiddish journals with the primary aim of providing a platform for young, struggling writers... He had no arrogance, no pretensions and no personal vanity."
Tags
---
More Books By This Author: