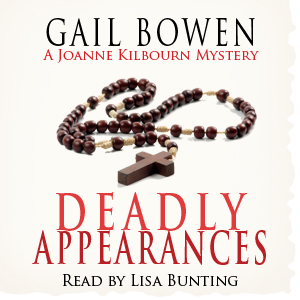 Pricing
Audio CD - $50.00
MP3 CD - $26.00
Download - $20.00

Buy this book on CD
Buy this book as Download
Sub Title: A Joanne Kilbourn Mystery #1
Author: Gail Bowen
Narrator: Lisa Bunting
Audio Book Length: 8 Hrs 35 Min
# of Audio CD's: 8
# of MP3 CD's: 2
Audio CD ISBN: 978-1-926910-90-1
MP3 CD ISBN: 978-1-926910-93-2
Download ISBN: 978-1-926910-92-5

A Joanne Kilbourn Mystery, #1: Deadly Appearances
To purchase, scroll down and click on the "ADD TO BAG" button on the left - you can choose to add CDs or, below that, downloads. Pick the format you want in the pop-up menu: Reg CD's play on all CD players; MP3 CDs require MP3 compliant CD players; MP3 downloads play on all devices; M4B downloads are great for MAC devices.
"Smart" - "Very Enjoyable"
"Lisa Bunting does a great job with the narration."
Andy Boychuk is a successful Saskatchewan politician – until one sweltering August afternoon when the party faithful gather at a picnic. All of the key people in Boychuk's life – family, friends, enemies – are there. Boychuk steps up to the podium to make a speech, takes a sip of water, and drops dead. Joanne Kilbourn, in her début as Canada's leading amateur sleuth, is soon on the case, delving into Boychuk's history. What she finds are a Bible college that's too good to be true, a woman with a horrifying and secret past, and a murderer who's about to strike again.
Tags
---
More Books By This Author: